Imposing temple bells and powerful krises  
More than 300 peoples live in Indonesia, each with their own language and culture. The archipelago lies at the crossroads of key trading routes and as such has been exposed to centuries of influences and religions from both East and West. After Hinduism and Buddhism came Islam and Christianity.
The main religion today is Islam, but the tradition of venerating one's ancestors as sources of protection and fertility still plays an important role. This veneration is expressed through statues, masks and ritual objects. Similarly krises, batik and Wajang still form part of living traditions.
The elephant god Ganesha
You can't miss it: the imposing stone statue of Ganesh, the elephant god. It's more than one and a half metres high, strikingly festooned with many skulls. Ganesh's earrings, crown, bracelets and even the bowls he's holding are made of skulls and the god is shown sitting on a whole row of them. In Indonesia the skull was seen as a source of supernatural power, offering protection. There's so much more to tell about this striking highlight of the collection. Visit our museum and find out the whole story.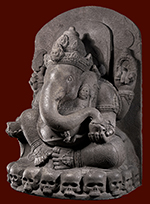 The collection of dolls of Queen Wilhemina
Dutch Queen Wilhelmina (1880-1952) was given a collection of dolls for her thirteenth birthday. The 350 dolls were meant to give her an idea of Indonesia's different peoples. The collection was first exhibited in Batavia (today's Jakarta) before being put on show to the Dutch public at the Kneuterdijk Palace in The Hague. The exhibition's proceeds were used to finance scientific expeditions to Central Kalimantan. The collection of dolls was gifted to the Wereldmuseum Leiden in 1894 as a 'tangible contribution to the knowledge  about Indonesia' .